https://youtu.be/39wMrQXLydI
Unlock The Hidden Secrets Of The Forex Economic Calendar
In this video presentation, we will be looking at the economic calendar pertaining to the forex market and how It can be extremely useful to traders who implement the knowledge in their fundamental analysis.

Example A, The economic calendar is a fundamental resource that tells traders about economic data releases, which are due to be released by governments or independent research establishments, which collate statistics pertaining to the economic activity of a country and whereby these statistics are released daily, weekly, or monthly. Such data varies in importance to the market from low risk to medium and high risk. The higher the risk, the greater potential for extra volatility impacting those associated currencies whose countries have released the data, and of course, this will likely affect every pair traded and even, on some occasions, have a knock-on effect on other currency pairs as markets adjust to risk sentiment post-release.
Economic calendars are widely available, and where most brokers will provide one. Here we are looking at the economic calendar as provided by the broker EagleFX.
Traders keep a careful eye out for the events in the economic calendar, which are scheduled for release because these events can help traders plan trades throughout the days, weeks, and months, depending on their style of trading. They use the released data to set up trades while also mitigating against risk.
The most keenly observed data releases and the ones which potentially cause the largest amount of volatility post-release are gross domestic product updates, interest rate decisions by central banks, and on the first Friday of each month nonfarm payrolls, which relate to unemployment in the United States.
Learning you to navigate the economic calendar will save you time. It is generally displayed in a linear fashion, on an hour by hour and day by day basis.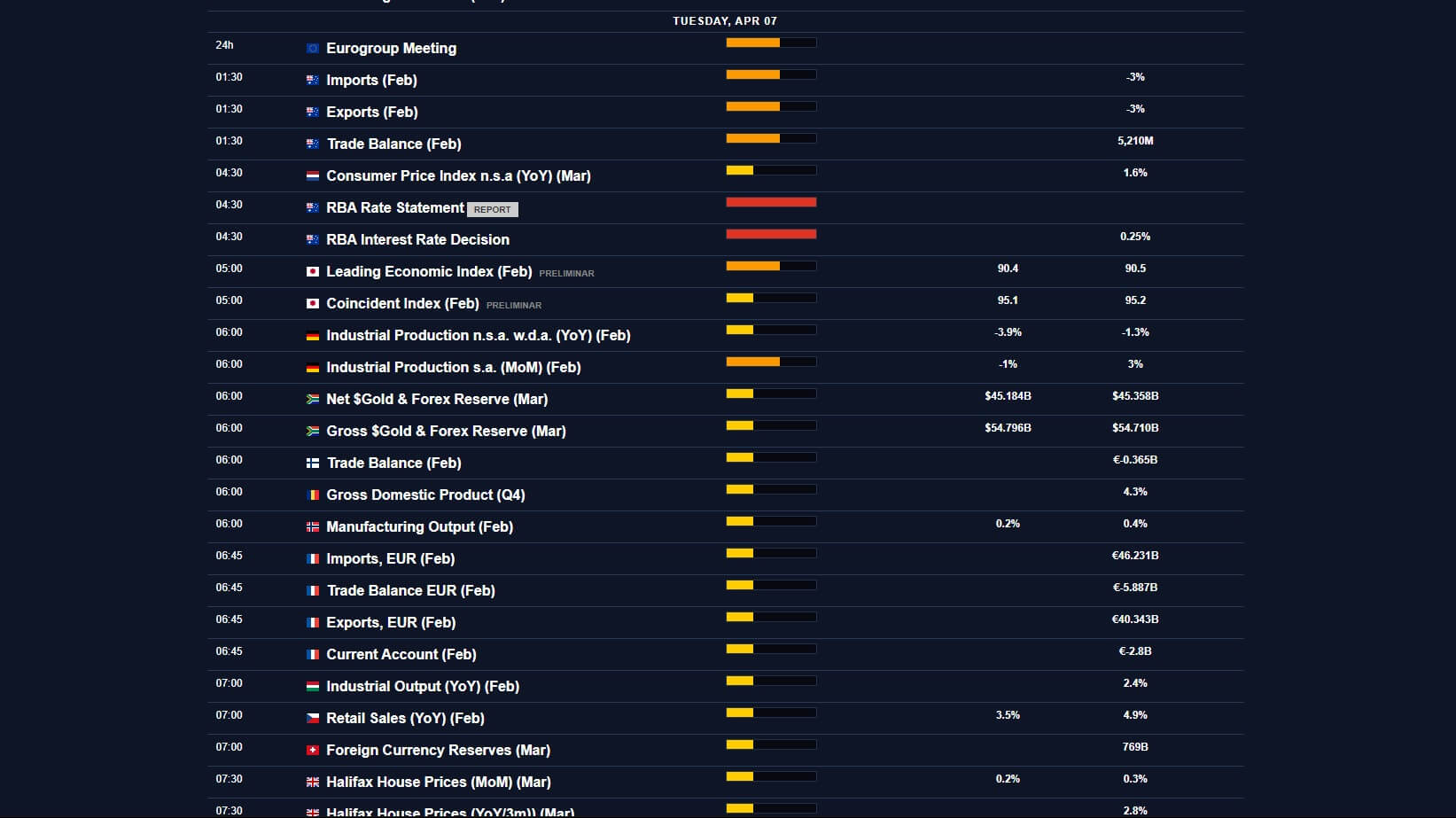 Example B, Information is key when trading currencies, and economic calendars are a fantastic tool to keep you informed of major news events in the diary and will potentially greatly enhance your trading.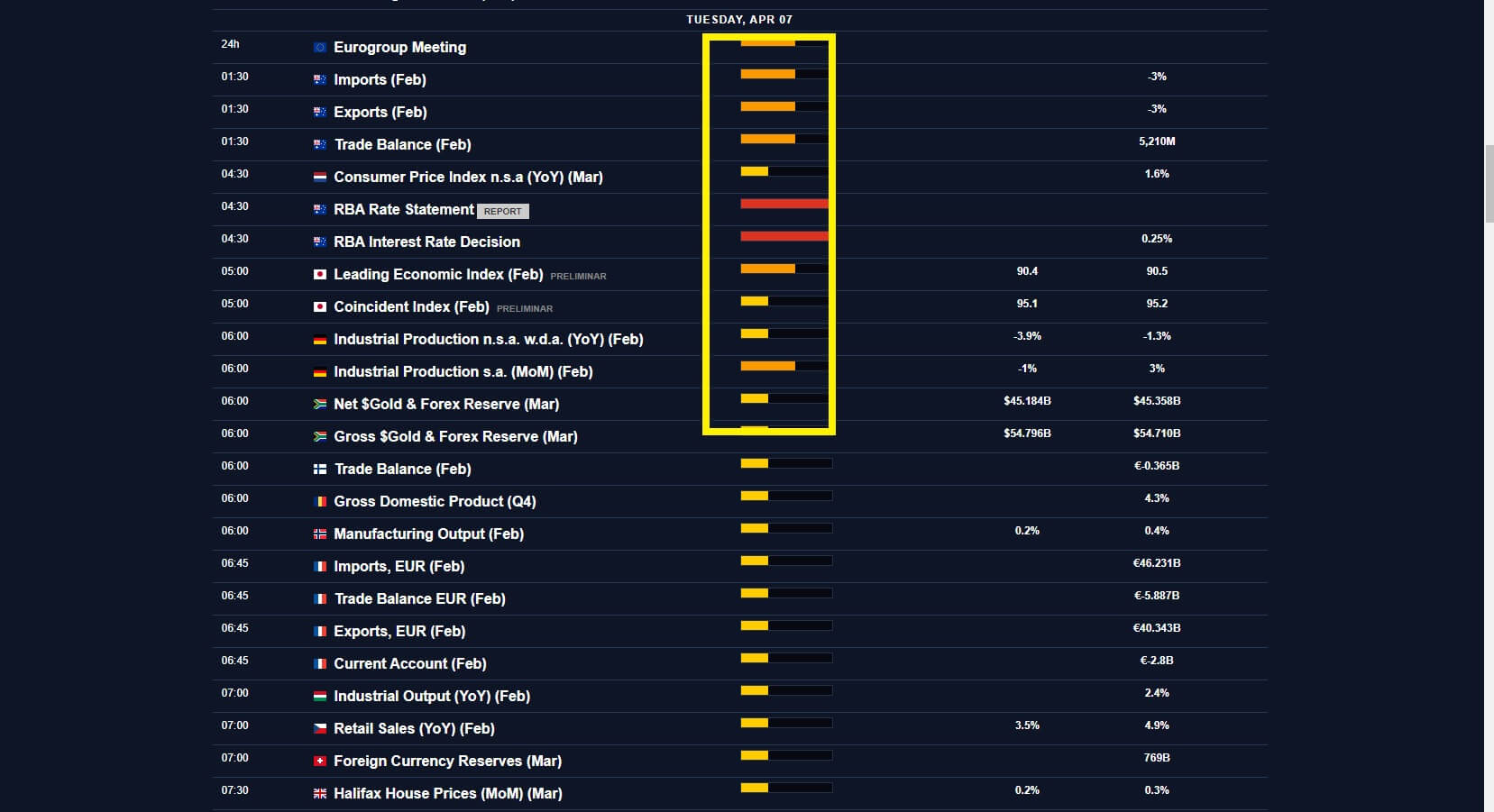 Example C, In this example, we can see that on Tuesday, April 7th, the Royal Bank of Australia is to make an interest decision at 4.30 AM GMT and where the importance is signified by the red lines, which indicates this as a high-risk event. Traders will be keeping a close eye on the Australian dollar and associated currency pairs being traded against it leading up to and just after any announcement by The Royal Bank of Australia.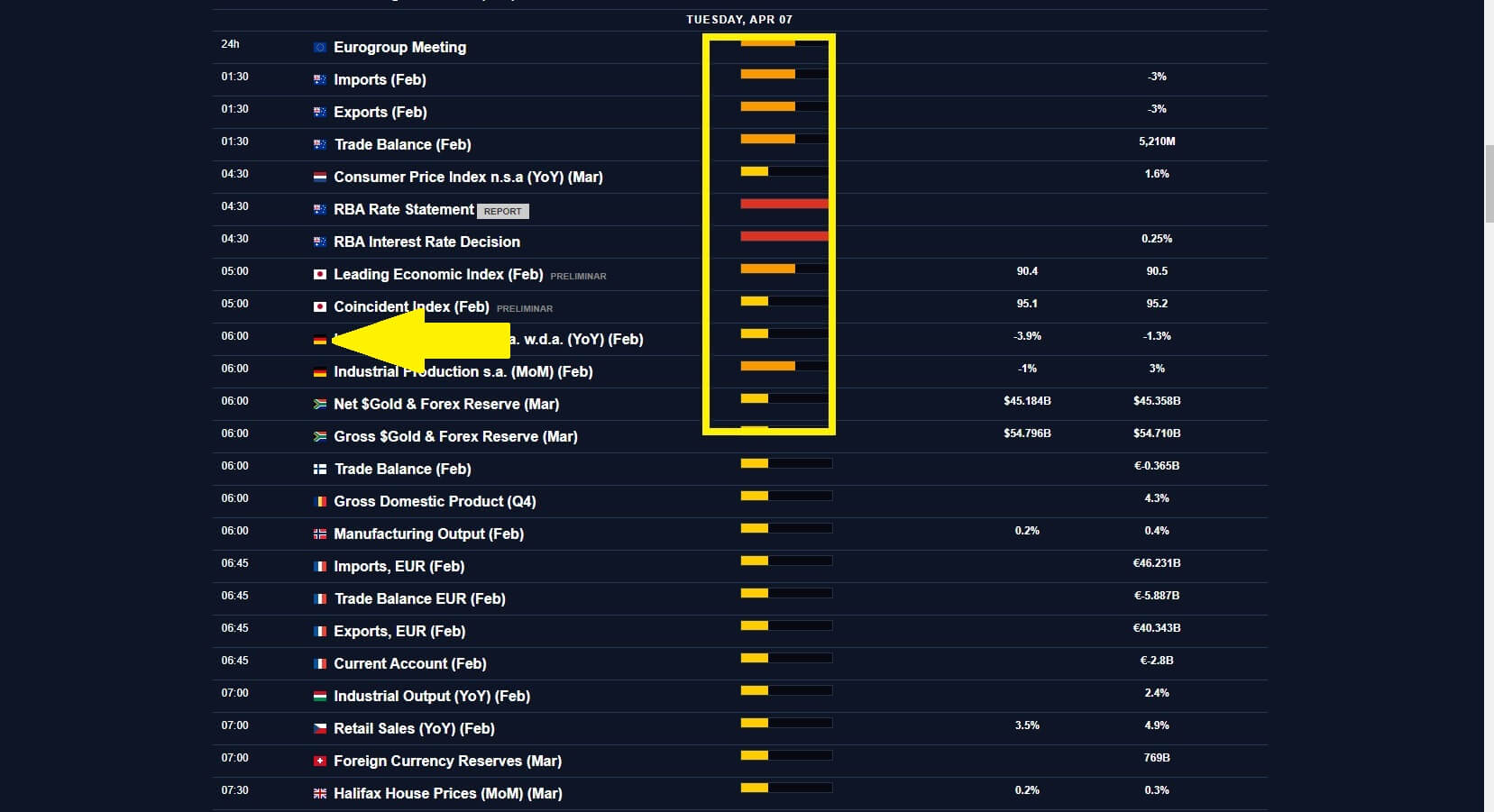 Example D, The flag beside the type of economic data release denotes the country that is releasing the data, in this case, Germany.
Example E, And the time of the release is usually on the left-hand side of the calendar. This is typically the time of the source of the release.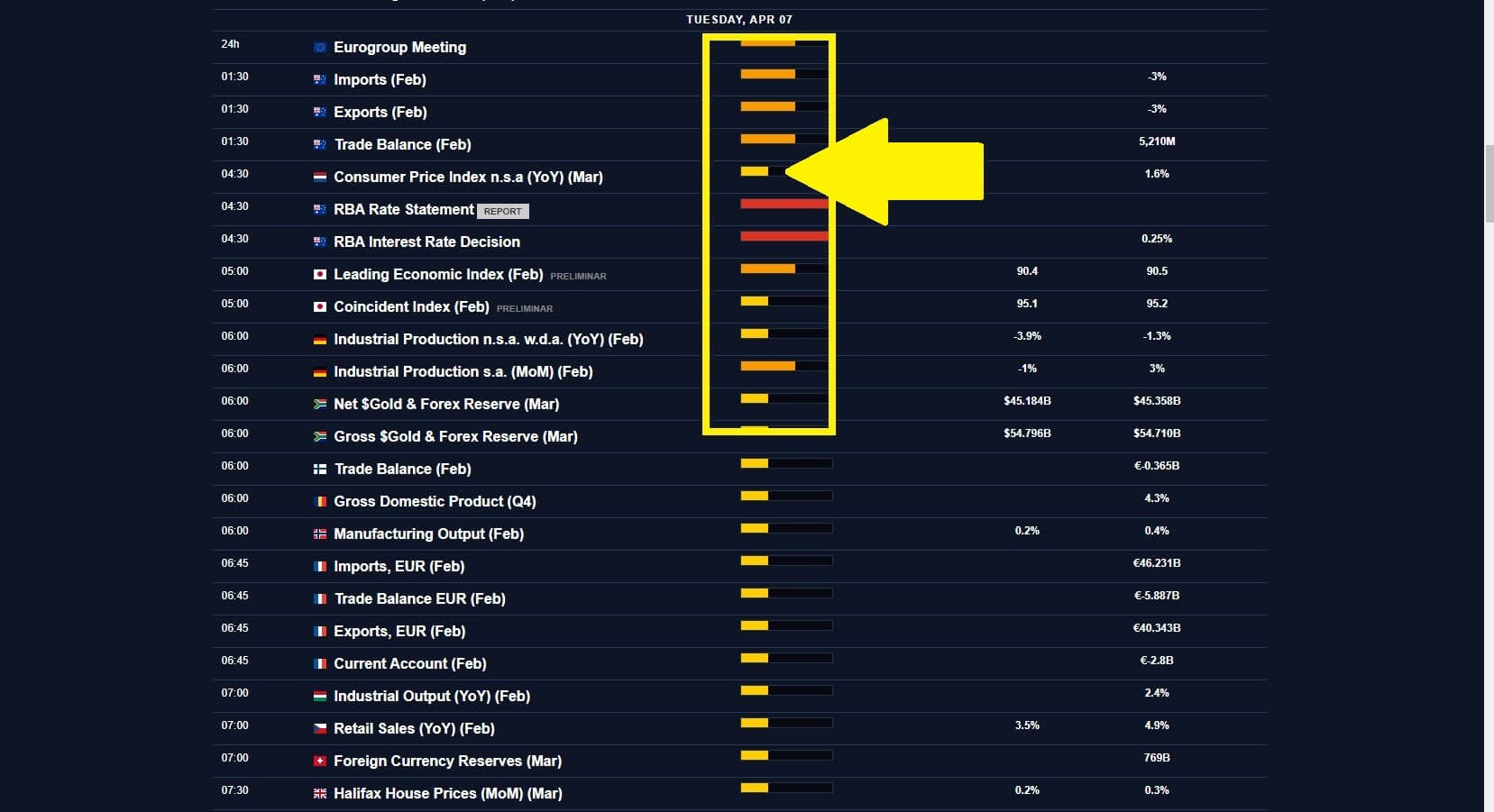 Example F, So here we can see that in this example, the Netherlands will be releasing its consumer price index year on year for March 2020 and where this information will be released as low importance and is not likely to affect market volatility.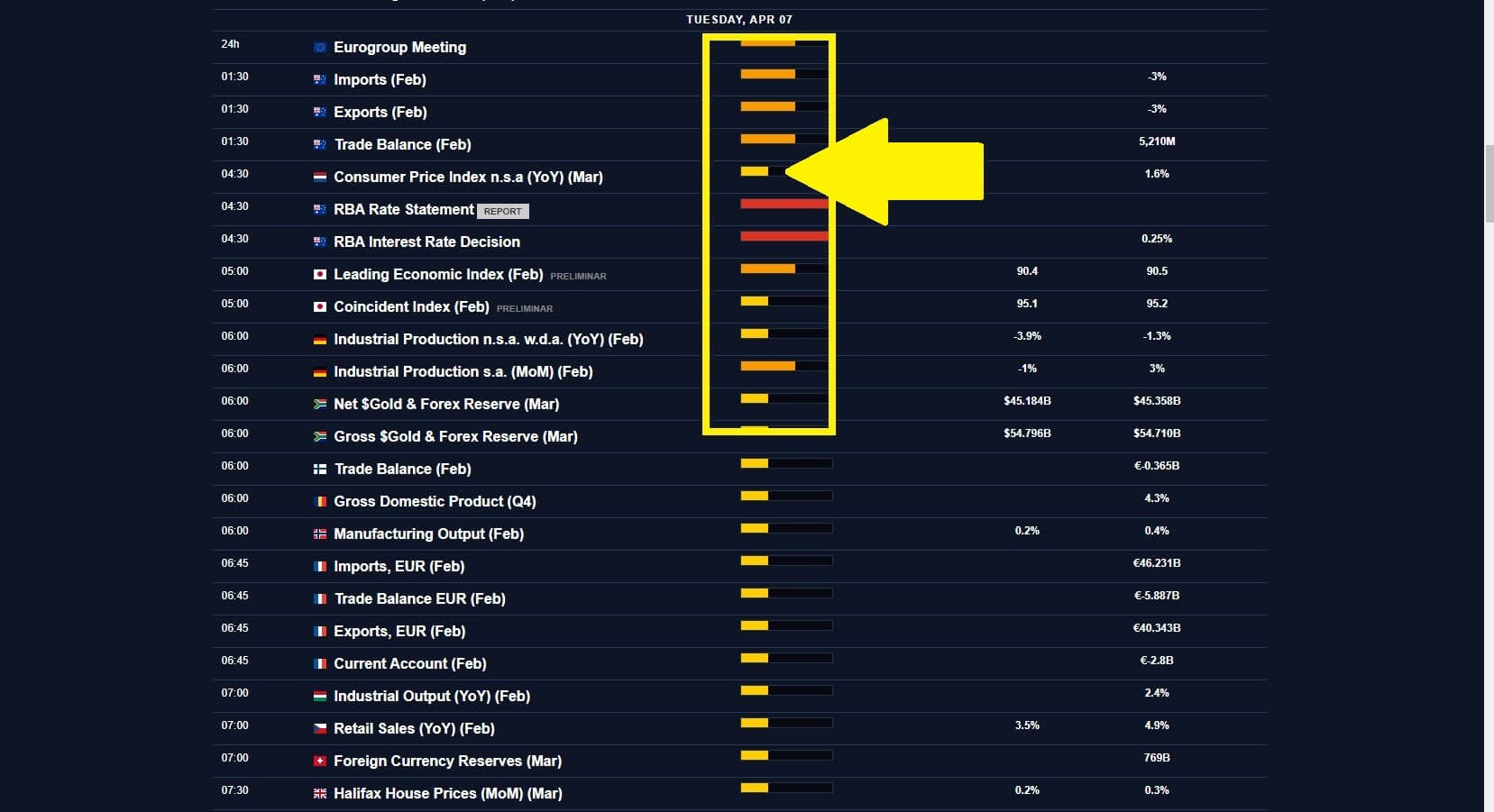 Example G, In this example, the Japanese will be releasing leading economic index preliminary data for February and whereby this information is medium risk and Michael's market volatility.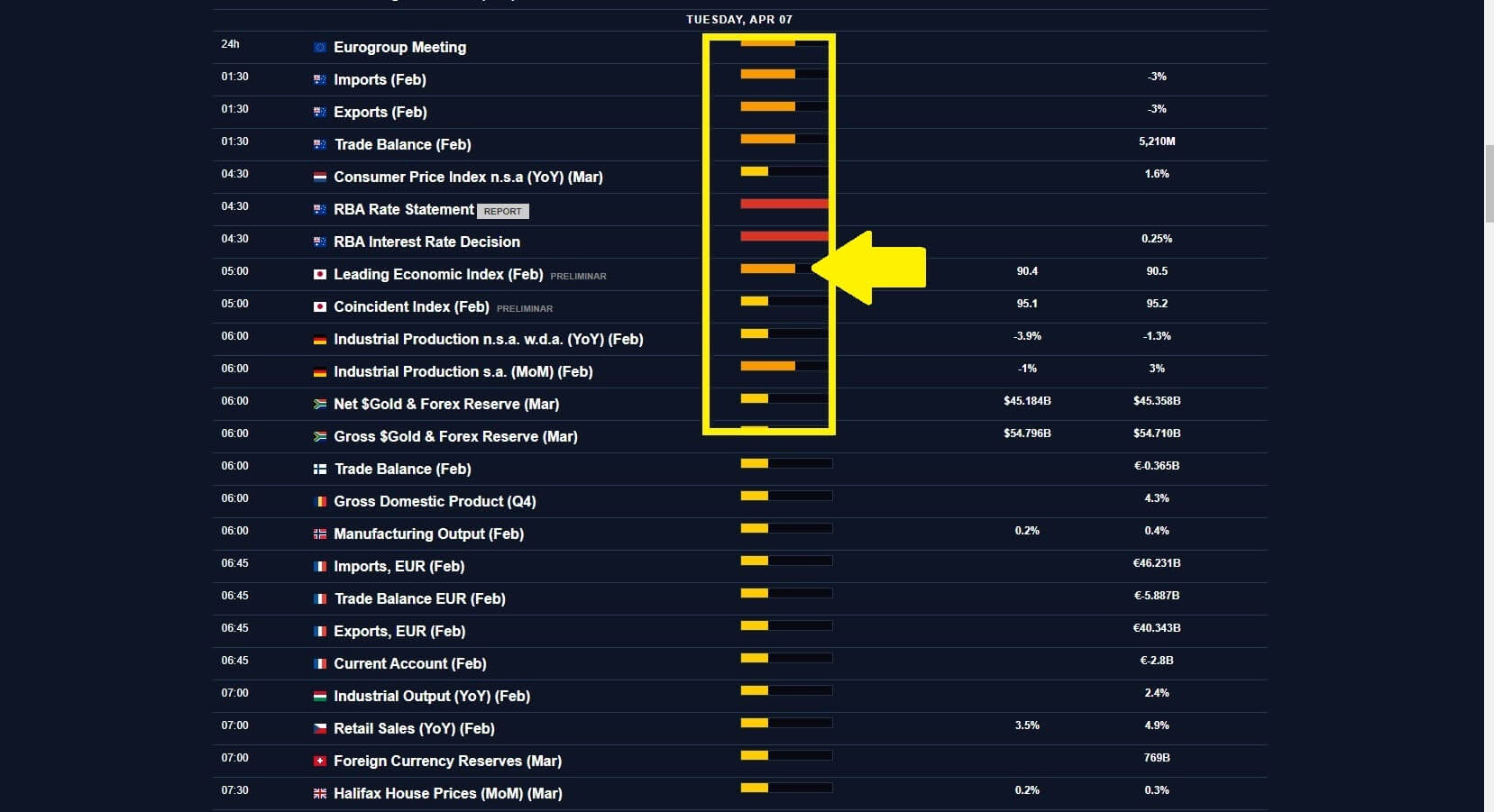 Example H, Another important feature of an Economic Calendar data release information which is highlighted here. The previously released data pertaining to the country in question is available on the calendar in the lead up to the current release, and also some brokers will show a market consensus of the data as suggested by various analysts who suggest what they believe the figure will actually be. Upon data release, the actual figure will be updated on the calendar in a timely fashion. The majority of data releases are subject to an embargo where institutions are not allowed to benefit from data, which could cause insider dealing in the markets. While all of this may seem slightly daunting to new traders, it is important that you understand the significance of fundamental data releases and how they will help you to become a better trader.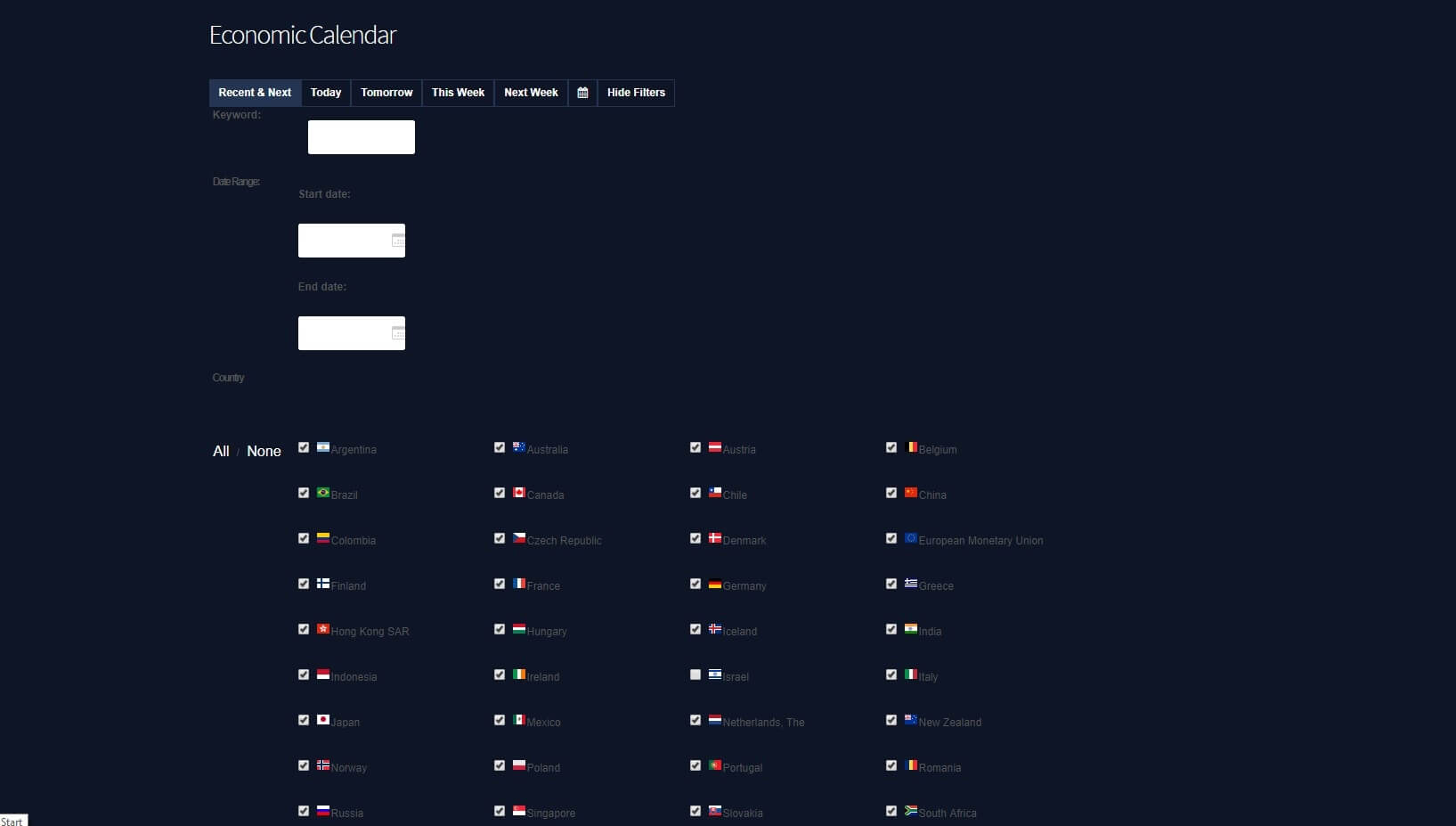 Example I, As you become more knowledgeable, you will learn how to filter out various parts of the economic calendar which you may deem as not so important, and these can be reduced to certain countries data releases, and therefore their currencies being emitted to your calendar or even filtering it down to only high-risk news events being shown on your calendar.
Example J, Here we have filtered out all currencies apart from the Great British pound and the United States dollar for our calendar for next week. This is a great option for traders who only trade the GBPUSD pair, also known as cable. The economic calendar is, therefore, a customizable tool for your convenience.
Failing to observe the release of economic events is inherently risky. If economic events happen and you are not aware of them, it could dramatically affect any open trades or trade ideas which you may be about to set in place.
Therefore it is vitally important that you incorporate the economic calendar into your daily trading routine. Make a habit of checking it in the morning, and in the evening, It will pay dividends in the long run.