AlfaAssets is an FSA regulated forex broker, located in Malaysia, and was founded in 2007. Comparable to their competitors, there are positive, average, and negative qualities about this broker. Some may feel that the variety of quick, fee-free withdrawal methods make Alfa Assets worth choosing alone. Others may feel that the average spreads and higher deposit minimums are deal-breakers. In order to decide whether this broker is ideal for you, you'll need to keep reading, as we will go on to identify their best and worst qualities in more detail. 
Account Types
AlfaAssets offers traders the ability to choose between two different account types, which allows for a more specialized experience. Minimum deposit requirements and spreads seem to be the main differences between the account types. Both accounts support the MT5 platform, share the same leverage cap, and come with the same leverage options, so it seems that the accounts share more similarities than anything else. Since the website is not forthcoming with information based on commission fees, we can't say if the Alfa Account has an advantage in that category. Below, you can quickly view some of the basic details for each account type.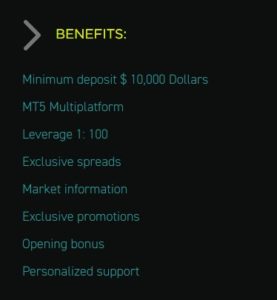 Alfa Account:
Minimum Deposit: $10,000
Leverage: Up to 1:100
Spreads: Average; unclear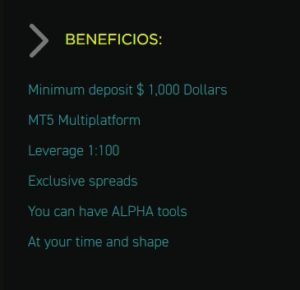 Beta Account:
Minimum Deposit: $1,000
Leverage: Up to 1:100
Spreads: Average; unclear
Platform
Alfa Assets has upgraded from the classic MT4 platform to the newer model, MetaTrader 5. Some will be more than happy with the improvements that developers have made to the newer model, but others may still prefer the classic MT4 over its successor. In our opinion, it's refreshing to see MT5 available, considering that many other brokers have yet to offer the newest version. Even if you're pro MT4, you should know that MT5 offers additional trading features, a similar user-interface that has been updated with additional services, added timeframes, more pending order types, allows for netting, and offers more technical indicators and analytical objects. MT5 is available for direct download on both PC and MAC and can also be downloaded directly from AlfaAsset's website. For trading on the go, the platform is also downloadable through the App Store and Google Play. We definitely recommend downloading the program on your smartphone for quick access from anywhere.


Leverage
The maximum leverage with this broker goes up to 1:100 for both account types. Realistically speaking, this limit will be satisfying for many of their potential clients, but we wish that Alfa Assets would at least raise the limit to 1:200. The broker has likely chosen to limit the leverage to 1:100, which is the industry average, to limit their client's potential loss. High leverages can certainly be dangerous when used by beginners, so this may be a good thing if you don't know much about what you're doing. However, the limit could also be considered restraining by more serious investors. In summary, the leverage option is average and should be satisfying for the majority of traders, but aggressive traders may need to seek another broker if they prefer taking higher risks by using higher leverages.
Trading Costs
The spreads with Alpha Assets seem to be about average, with the lowest spread we saw starting at 0.2 pips. Unfortunately, the website is very vague about spreads and other trading costs. We could not find any information about whether commission fees and spreads are applicable, but one should assume that they are. This broker is not the only one to be vague when it comes to this category and we can't help but to feel frustrated that they aren't more transparent about their fees. Taking all of that into consideration, we recommend you test out a demo account to get a better idea of their trading fees before making the decision to open a real account.
Assets
Alfa Assets is a forex broker that only offers currency pairs for trading. Popular options are available, including the AUDUSD, EURUSD, and the USDCAD. In total, there are 15 tradable currency pairs. While this does not provide a diverse portfolio, we understand that many traders like to focus on simple currency pairs, since they are the most basic trading element. If you're a beginner, the options certainly won't be overwhelming. On the other hand, if you prefer to invest in a variety of different products, this broker probably isn't right for you. Consider opening an account elsewhere to invest in CFDs, while maintaining an account with Alpha Assets if you like their trading conditions, but are looking for more variety.

Spreads
The account types page of the website describes the spreads for the Beta account as standard, while the spreads on the Alpha account are described as exclusive. This is not surprising, since accounts with larger deposit requirements often come with rewards like better spreads, which is an incentive to make the larger deposit. Unfortunately, the website is very vague about how much of a difference there is, and the only way to gain a better understanding of the pips that are offered would be to check the live prices on the website's homepage.
To give one example, the spread was only 0.2 pips on GBPJPY, and this was the lowest spread we saw. It seems as though the spreads on other assets fell into more of an average category, although it is a bit confusing, considering that we don't know if this is based on the Beta or Alpha account type. Overall, the spreads seem decent, but we were unhappy with the lack of information on the website.
Minimum Deposit
If you're a beginner, or you don't have a lot of funds to start with, then the Beta account would definitely be your best option, although the minimum deposit requirement for said account is still steep at $1,000. You'll often see deposit minimums in this range for certain account types among brokers, but brokers usually offer at least one account type with a much smaller deposit requirement.
Unfortunately, the $1,000 minimum on the Beta account is the lowest option available with this broker. Meanwhile, if you choose to open the Alfa account, you'll need to deposit at least $10,000. We weren't surprised to see options this high, but it can be somewhat of a drawback that Alfa Assets doesn't offer a better option for beginners. If you don't have the funds to open an account, you may want to consider saving up, or looking into a broker with smaller minimums. 
Deposit Methods & Costs
Alfa Assets offers a wide variety of deposit methods, including many popular options. Available deposit methods include Visa/MasterCard, Skrill, Neteller, Bank Transfer, Epayments, Bitcoin, OkPay, and QIWI. It seems that this broker is definitely offering enough variety in this category, so we certainly have no complaints. AlfaAssets does not charge any commission for any of the aforementioned deposit methods, however, it is suggested that OkPay may charge a fee from their side and that bank wire will most often incur a fee from the bank's side. All of the deposit methods are instant, aside from bank wire, which has an unavoidable 2-6 business day waiting period before funds will be available.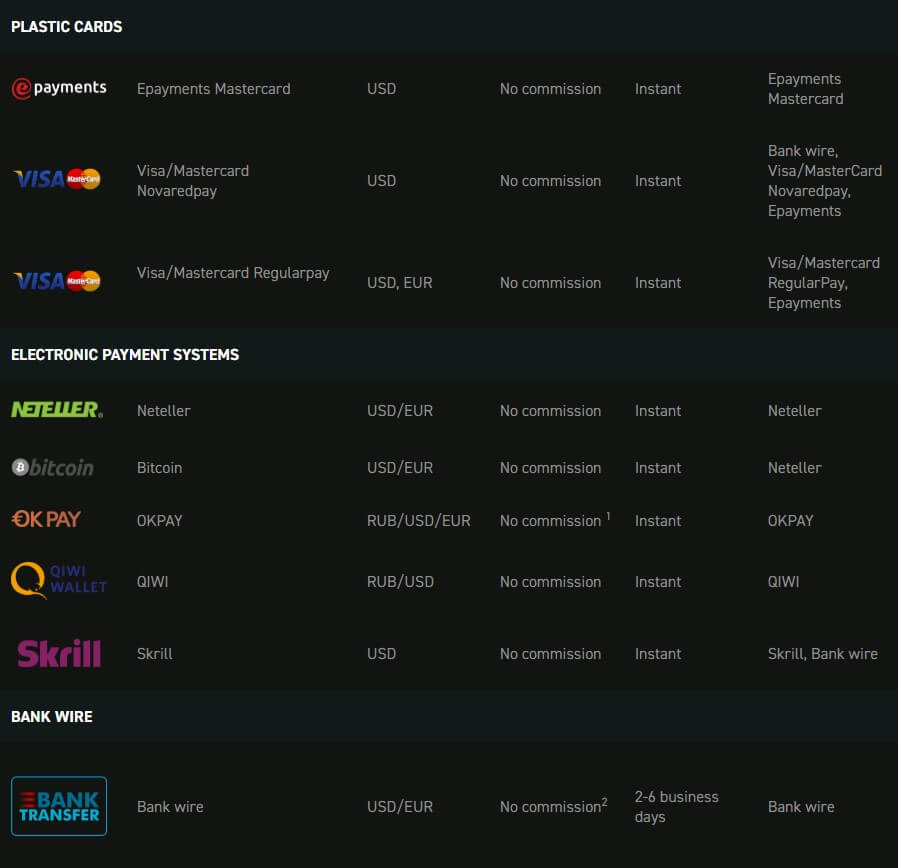 Withdrawal Methods & Costs
All of the available deposit methods are also available for withdrawals. Each method does incur some type of fee; therefore, we have listed the fee for each method in order from the cheapest to most expensive below. You'll notice that OkPay, Skrill, and Epayments are some of the least expensive withdrawal methods available. The popular Visa/MasterCard method and bank wire both incur fees that are higher than what we would like to see. The fee for bank wire is actually one of the highest we've seen before, so it may be worth avoiding that method altogether. 
OkPay:

0.5%

Skrill:

1%

Epayments:

1%

Neteller:

2% (1USD/1EUR minimum)

QIWI:

4%

Visa/MasterCard:

7 USD + $3%

Bank Wire:

1% + $50 USD/EUR

Withdrawal Processing & Wait Time
Withdrawals are processed within the company's working hours, which are listed as being from 9:00 to 17:00 GMT. Some payment methods are available quickly, while others take longer than expected to be received. The fastest withdrawal methods would be Skrill, Neteller, Epayments, OkPay, and QIWI, all of which are available within 10 minutes, so long as it is within the company's working time.
Visa/MasterCard has a longer withdrawal time of 1-5 business days and bank wire can take between 2-6 business days to be received. The wait time for card withdrawals may be frustrating, especially if you're in a hurry to receive funds quickly. If you feel you may need your funds returned quickly at some point, we'd suggest sticking with one of the quicker withdrawal methods. The wait time for bank wire is expected, since some of the responsibility falls on the bank.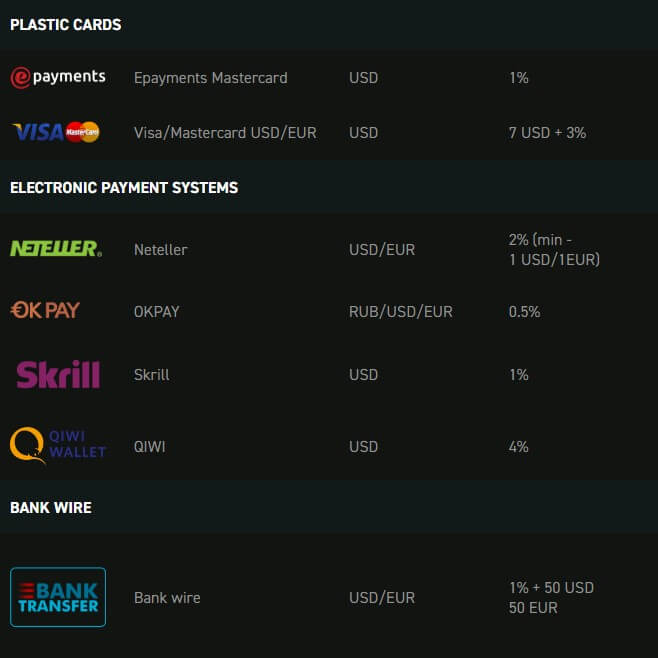 Bonuses & Promotions
Alfas Assets advertises both an opening bonus and exclusive promotions as being available to those whom open an Alpha account. Note that these opportunities are only available to those that have opted for the Alpha account, so if you've chosen the Beta account, you won't be applicable for any type of bonus. However, the website also fails to mention any further details about these types of bonuses. If you decide to make the $10,000 deposit required to open an Alpha account, we definitely suggest reaching out to support to check if the bonus opportunity is still available.
Educational & Trading Tools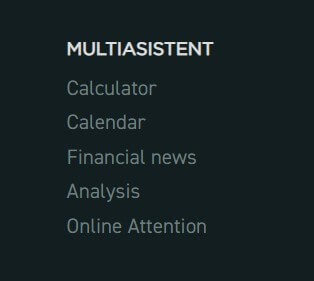 While the AlfaAssets website lacks any sort of educational information, they somewhat redeem themselves in this category by offering several useful tools. It's still disappointing that there isn't any educational information available directly, but we were happy to see that the website does at least offer these tools. There are five different calculators available, with the choices being Pip, Benefit, Pivot Points, Fibonacci, and margin calculators. You'll find both a financial and economic calendar available on the website as well. Financial news is also readily available and is updated often with interesting and relevant stories. 
Demo Account
Unlike many of their competitors, Alfa Assets does not offer the option to open a free demo account. This is something we're really missing, since demo accounts offer such a great opportunity for beginner traders. The lack of demo accounts and the lack of educational tools leaves us feeling as though this company is not placing enough important upon educating beginners.
You could always open a demo account with another broker for practice, but another one of the benefits to these account types is that it gives one an idea of what it is actually like to trade with a particular broker before actually investing. Sadly, traders will not have the ability to practice or to get a taste of what being a client of Alfa Assets is like before opening a real account.
Customer Service
Alfa Asset's available contact options include phone and email. Sadly, the LiveChat feature is not functional with this broker. It's important to point out that many brokers do not provide their direct phone numbers, which can make getting in touch with support a hassle. Fortunately, clients should be able to reach support fairly quickly if they decide to call the direct phone number listed on the website, so long as it is within working hours. Phone support is offered Monday through Friday from 8:00 am to 8:00 pm. AlfaAssets also provides three separate email addresses, so do make sure you email the correct department, depending on the nature of what you need help with. If you prefer, you can fill out the contact form directly from their website, rather than emailing them.
To mention a downside, we did reach out to support via email to ask for some details that were not available on the website. Now, more than 48 hours later, we still haven't received a response. Therefore, we would definitely recommend you forgo the email option and call directly if you have an issue that needs immediate attention. If you'd like to, you'll also be able to follow this company across social media, via Facebook, Instagram, Twitter, and more. See their website for links to all of their active social media platforms. Below, you'll find all of their listed contact methods.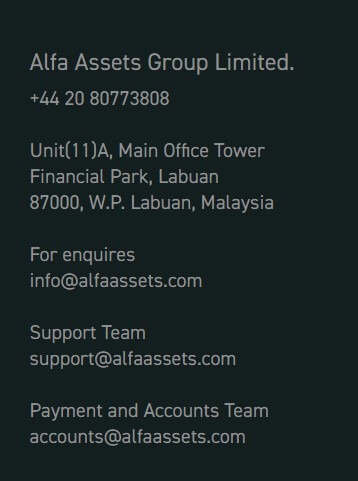 Phone: +44 20 80773808
Email:
Inquiries: info@alfaassets.com
Support: support@alfaassets.com
Payments & Account team: accounts@alfaassets.com 
Countries Accepted
Alfa Assets accepts clients from all over the globe, including the United States. Since many brokers have removed the US from their potential client pool lately, it's refreshing to see that a regulated broker such as this one is so openly accepting. Others should also be able to find their country as a selectable option on the sign-up page. 
Conclusion
Alfa Assets is a forex broker that seems to offer average spreads, as well as average leverage options. The company provides new users with the ability to select between two different account types, allowing for more specialized experiences. Alfa Assets supports the MT5 trading platform only, which could be considered either an advantage or a disadvantage, based on your own personal preference.
When it comes to funding your account, there are several popular funding methods available, and all deposit methods are fee-free. Unfortunately, the lowest deposit minimum is set at $1,000, which may be a deal-breaker for certain traders. There are fees for each withdrawal method and withdrawals are available within ten minutes for the majority of the payment methods.

Support is available via phone or email, but we're missing the instant option that LiveChat provides. The website does offer several helpful tools, but we really wish that Alpha Assets would include some educational resources as well. Most of all, we felt that lack of demo accounts was very disappointing.
To summarize, this broker's positive qualities include the option to use the newer MT5 platform, several fee-free deposit methods, fast withdrawal times, and variety of trading tools that are conveniently available on their website. Leverage options, their product portfolio, and the spreads are simply average. The higher than average deposit minimums, lack of information about trading fees, and unavoidable withdrawal fees are the main drawbacks to choosing this broker.