Adaptive Stochastic is a trading indicator that was developed by Rasoul Mojtahedzadeh, who has published multiple other products on the website. This indicator was uploaded in June of 2014 and last updated to version 3.25 in March of 2020.
Overview
Stochastic oscillators are generally one of the most popular tools used by traders for analyzing overbought or oversold conditions, however, they often come with one main problem – wrong signals are often generated when market conditions change, which results in large losses. The Adaptive Stochastic takes the concept behind a stochastic oscillator, but adapts its period of calculations based on the market conditions, resulting in more accurate buy/sell signals on overbought/oversold areas of the market.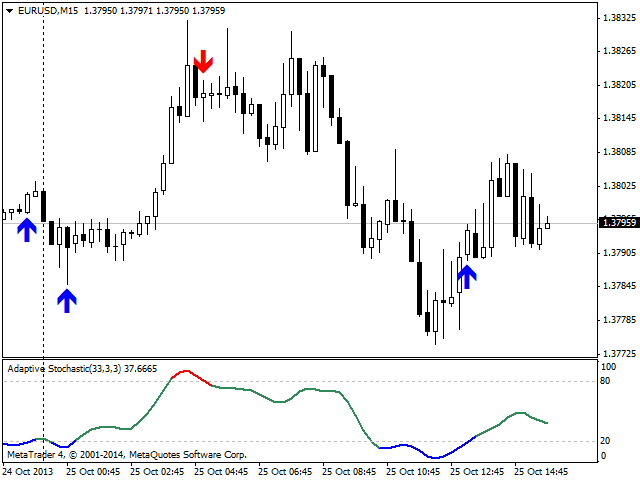 Here are a few more of its features:
-Designed to work on the most popular platform available, MetaTrader 4 with 4 and 5 digit brokers.
-Uses an algorithm that identifies the best period for calculation based on the maximization of the profit over N-past bars.
-Highlights overbought/oversold areas in different colors for easier recognition.
-More reliable than the original Stochastic indicator, according to the developer.
-Alerts traders through email/mobile notifications for buy/sell signals.
Service Cost
If you're looking to purchase this indicator outright, you'll be out of luck, as the only option is to rent it at a rate of $33 per year. This is a fairly standard price for this type of product, but this price would usually pay for an indicator entirely, so this might be inconvenient later on. The developer also features free demo accounts for testing, which is a good sign that he believes in his product.
Conclusion
This Stochastic indicator was designed to generate more reliable signals than traditional Stochastic oscillators because it adapts its period of calculation based on market conditions using an optimized algorithm. The product has received a 5-star rating, along with some positive comments.
For example:
"This is a pretty solid indicator, which can be used to show, long term trends and used for intra-day swing trading, helps to show big swings in momentum over a bit longer periods. With the RSI adapter and the Stochastic Adapter they can be a solid one-two punch." -Richard
"An excellent tool to use as a filter/"second vote" for the already existing setup. I would not use it solo but it was never meant to be used solo. Serves its purpose perfectly." -Alexander
User reviews tell us that this indicator is best used in combination with other products and that it does its job of providing accurate signals. The developer seems to be onto something with his improvements over more common Stochastic oscillators, which makes the $30 price worth it if this is the sort of thing you're looking for.
This Forex service can be found at the following web address: https://www.mql5.com/en/market/product/4796