AccentForex is a non-dealing desk FX and CFD broker. The trademark name belongs to the group Accent Markets Group, which was established in 2010 under the regulatory oversight of the Vanuatu Financial Services Commission (VFSC). AccentForex is primarily located in Vanuatu, with a secondary office located in Indonesia. On their website, the broker describes their main purpose as providing high-quality services under trading conditions that will provide clients with the maximum opportunity to profit. Our research shows that one can in fact access some advantageous conditions without making a large deposit through this broker; however, you'll want to read more before deciding whether this option will be the best fit. 
Account Types
AccentForex offers four different account types: Micro, Mini, STP, and ProFit. The first three account types can be opened with deposits of $100 or less, while the PROFIT account is the most expensive. The Micro account types offer the ability to trade micro-lots with a $50 deposit and a leverage of up to 1:500. The Mini account allows for the trading of mini lots, with a leverage of up to 1:200 and spreads from 0.5 pips.
As for the STP account, some conditions are shared with the Mini account, although the spread starts lower, from 0.1 pip. The ProFit account shares the same spreads as the Mini account and is the only account type to offer an unlimited maximum account balance. Mini account offers access to 20 FX and CFD instruments, while the other accounts offer 60 FX and CFD options. A swap-free status can be applied to any of the account types, although the broker would require some form of documentation that proves the client is of the Islamic religion. We've provided an overview of each account type below.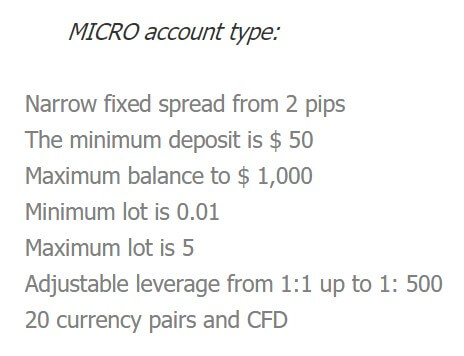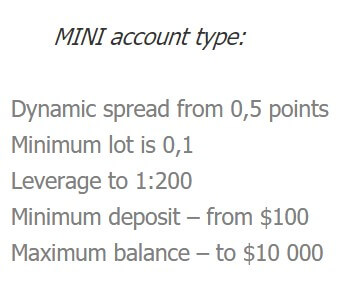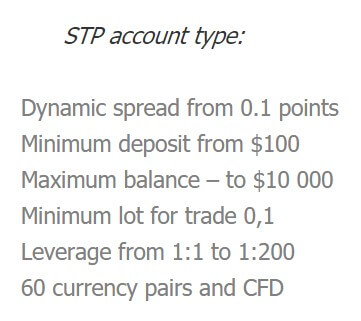 In compliance with their regulatory authorities, the broker requires proof of identity and residency documents before accounts can be entirely verified. For the ID document, traders can generally provide any document that displays a name and photo, typically in the form of passports, driver's licenses, etc. Proof of residence documents would be in the form of bank statements, utility bills, etc., displaying the full name of the client and dated within the last 3 months. 
Platform
AccentForex exclusively features the world-famous MetaTrader 4 trading platform as its sole platform option. Even with the newer version, MT5, being released, this option still remains the most popular choice in the world of forex trading. MT4 is available through the browser-based WebTrader, or for download on PC, Mac, iOS, and Android devices, so accessibility should be no issue. One of the most popular draws MT4 offers is an easy-to-learn, customizable interface that is adaptable for traders of all different skill levels. The program also provides multiple trading tools – Expert Advisors, more than 20 analytical options, copy trading, charts, 4 pending order types, etc. and is multilingual for customer convenience. MetaTrader 4 should leave no room for disappointment. 

Leverage
The Micro account definitely provides for the most flexible leverage options, from 1:1 up to 1:500. This cap is significantly higher than what many of the broker's competitors are offering and is a condition worth boasting about. However, the broker drops the cap lower, to 1:200 on the Mini and STP accounts. For the ProFit account type, the broker will only allow traders to use a leverage of up to 1:00. The lower caps are still high and should really only affect professionals who prefer the high-risk experience that comes with trading with leverages as high as those offered.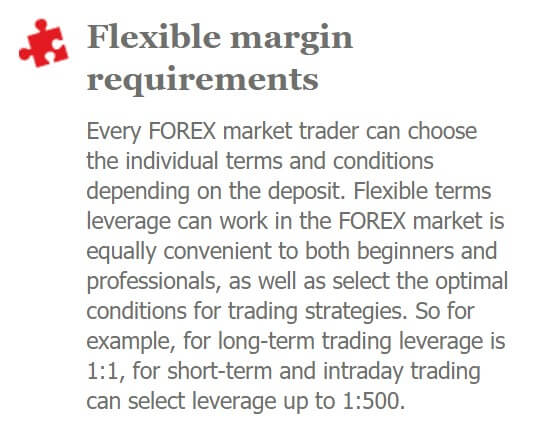 Trade Sizes
The Micro account allows for the trading of micro-lots, while the Mini and STP accounts share a minimum trade size of 0.1 lot, and the ProFit account requires a minimum trade size of 1 lot. We see a maximum trade size of 5 lots on the Micro account type. Conditions are not listed for the other account types. The website also fails to list margin call and stop-loss levels. 
Trading Costs
This broker primarily profits through spreads and swaps, although there is no information listed on the website pertaining to whether or not the broker charges commissions. Available spreads can be advantageous on certain account types, although spreads start from a higher 2 pips on the Micro account type. Swaps would be applicable when holding positions open overnight, with triple charges occurring on Wednesdays. Islamic accounts would be the exception, and will likely charge an administration fee in place of swaps. The broker is extremely vague about describing any potential commission fees, so one should keep in mind that it is possible these fees could come up once trading activity is initiated. There don't seem to be any inactivity fees with this broker and a 0.2% charge is applicable when transferring funds through the broker's MoneyBox. 
Assets
AccentForex offers an impressive asset portfolio that includes more than 140 total instruments, although those on the Micro account type will only have access to 20 FX and CFD options. The investment options for the other account types are made up of 64 currency pairs, Precious Metals, Stocks, Oil, and other Commodities. Fortunately, the larger number of assets can be accessed with a simple $100 deposit if the Micro account's limitation is an issue. The broker doesn't offer an exact product page on their website, so we can't offer more detail about exactly how many of these options are available.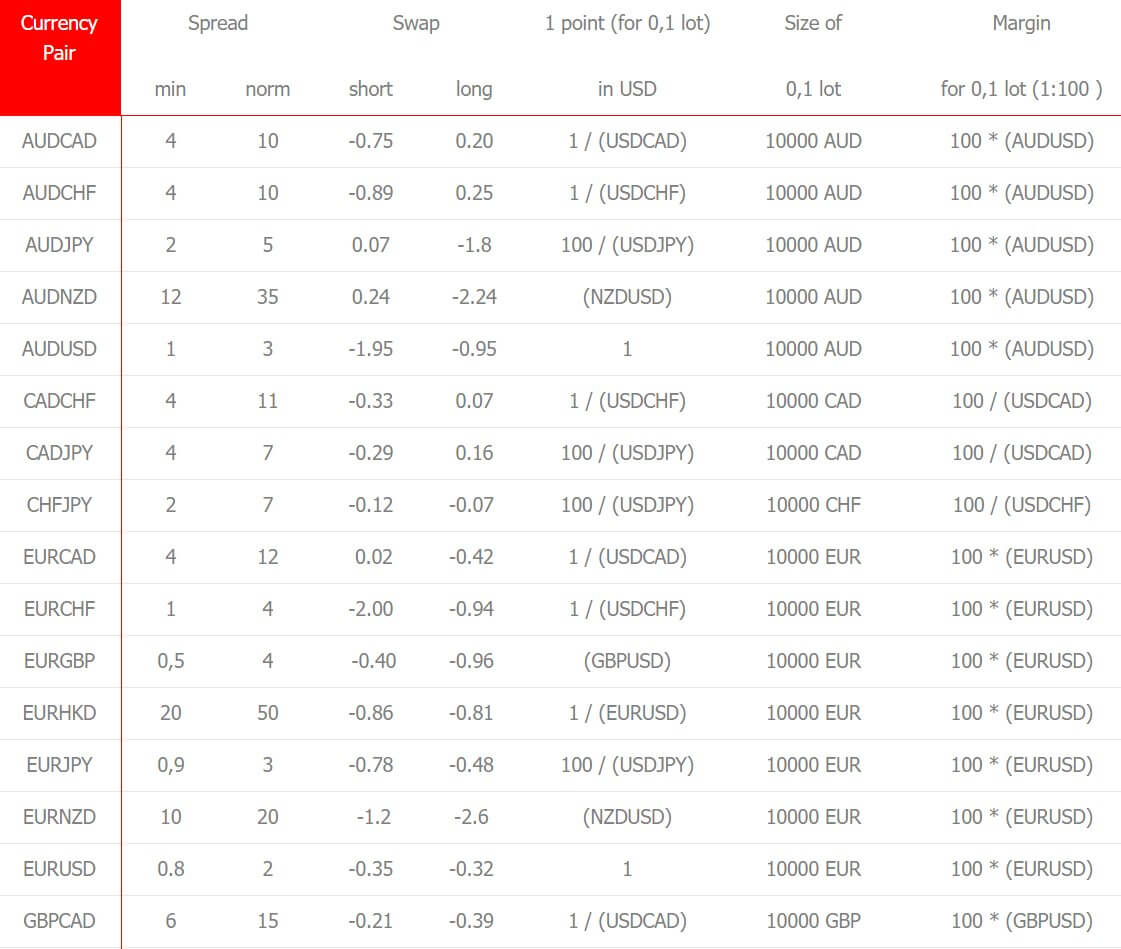 Spreads
Traders will find that the highest spreads are associated with the Micro account type, starting from 2 pips. Surprisingly, the Mini and ProFit accounts share the same starting spreads of 0.5 pips. This gives those without a lot of capital an advantage, since better spreads can be accessed with as little as a $100 deposit if one has chosen the Mini account type. STP accounts offer the lowest starting spreads – from just 0.1 pip. These spreads are extremely competitive for an account that only asks for a $100 deposit, although one will want to remember that spreads are floating on all accounts, which could lead to some fluctuations at times of market volatilely. 
Minimum Deposit
Although some brokers do offer the ability to open an account with no deposit requirement, we're still happy to report that AccentForex is only asking for a $50 deposit to open a Micro account. This amount is low enough that it shouldn't be a problem for any type of trader and it also allows for some flexibility before one will need to make another deposit. For the Mini and STP accounts, one would only need to deposit $50 more dollars, for a total of $100 USD. The ProFit account type is the most expensive, although the minimum deposit requirement is only $1,000. Overall, we see options that are low with this broker, and traders should be able to choose from at least the Micro, Mini, or STP account without seeing any restrictions based on affordability. In addition to setting minimum deposit requirements, this broker also limits the total balance that can be held on some of their account types. The Micro account tops out at $1,000, while the Mini and STP accounts top out at $10,000. The ProFit account is the only account that will allow for an unlimited account balance. 
Deposit Methods & Costs
Accounts can be funded via Bank Wire, Visa/MasterCard, Skrill, Neteller, Bitcoin, Perfect Money, QIWI, and Advanced Cash. A 2.5% fee will be charged by Perfect Money and Advanced Cash, while Qiwi charges 4%, and Skrill and Neteller charge a 4.5% deposit fee. The only deposit fees for Bank Wire are charged on the bank's side, so one would want to check with their bank for those exact numbers. There is no fee for sending funds via Bitcoin; however, the credited amount may differ from the sent amount, based on current exchange rates. Deposits are typically credited within seconds to minutes. 

Withdrawal Methods & Costs
All deposit methods are available for withdrawals, with a minimum condition of $5 EUR per withdrawal. The broker also requires funds to be withdrawn back to the originating payment method, for example, any amount deposited by card would need to be withdrawn back to that same card. Funds can only be withdrawn to bank accounts if a bank account was previously used to deposit. The broker does take a conversion fee of 0.2% for sending funds from their "MoneyBox" to a chosen withdrawal method, so traders will want to keep that in mind when transferring funds back and forth. If a card withdrawal is requested with no trading activity, an additional 3.9% fee will be charged on top of the payment provider's fees. All applicable fees have been listed below. 
Card: Payment Provider's fees (+3.9% if there is no trading activity)

Skrill: 1% 

Neteller: 2% ($30 cap)

Perfect Money, Advanced Cash: 2% 

QIWI: 3.5% 

Bitcoin: NA (Conversion differences)

Bank Wire: $55 (or higher for amounts less than $1,000)
Withdrawal Processing & Wait Time
The broker will credit Skrill, Neteller, Perfect Money, Qiwi, and Advanced Cash withdrawals within 24 hours. It can take up to several hours for funds to clear on Bitcoin, as long as market conditions are normal. It typically takes 3-5 banking days for withdrawals to be credited back to bank accounts or cards, with a maximum estimated timeframe of 6 banking days. 
Bonuses & Promotions
The broker is currently offering several ongoing opportunities to earn cashback through bonuses, loyalty programs, and interest. First, clients can earn a 40% deposit bonus on any initial or replenishment deposit, on deposited amounts of $100 or more. Traders must fill out a form applying for the bonus before any trading activity takes place and the maximum payout is $4,000, on up to 5 total deposits. A cash + 35% bonus can be selected as an alternative and offers tradable funds on deposits of $300 or more. The maximum payout for this offer is $1,050 and traders must also fill out the request form before any trading activity takes place (once the account has been funded). These opportunities cannot be combined, so traders will need to apply for one or the other.

An 8% interest program is also available and is deposited monthly, on active accounts that have traded at least 5 lots that month. Two percent interest will be granted on accounts that trade less than 5 lots per month, deemed inactive. The bonus is available for all accounts, aside from swap-free Islamic versions. The broker seems to update this section of the website periodically and has even offered demo contests in the past, so one would want to keep an eye out for any updates. 
Educational & Trading Tools
Educational resources can be found on the website under "For Traders" > "For Beginners". As one might notice by the title, the material is clearly marketed towards beginners, with options limited to demo accounts, key terms list, a brief explanation of forex, and a brief explanation of forex analysis. Sadly, this section of the website is shallow and will not provide enough information for a beginner, so traders may need to look elsewhere for learning material. As for tools, we do see an economic calendar, forex news, and forex analysis. 
Demo Account
This broker offers free demo accounts as a way for their potential clients to test their conditions and practice on the MetaTrader 4 platform without risking any real funds. Although the broker markets these accounts towards beginners, demo accounts can also be an excellent tool for more experienced traders as well. Conditions mimic those on real accounts fairly accurately, although live price updates can sometimes be delayed by a few seconds. Accounts do not expire, on the condition that they are logged into at least once every 14 days. Demo accounts come preloaded with $10,000 worth of virtual currency. 
Customer Service
The broker's customer support team can be contacted via LiveChat, email, or Skype. Note that the LiveChat is not located immediately at the bottom of the website as it is with most other brokers and can instead be accessed through the "Contact" page under "About US" on the website. One would also want to note that a direct phone number is not provided for the company, so traders will have to stick to online support. Separate working hours and email addresses are provided for different departments and have been detailed below.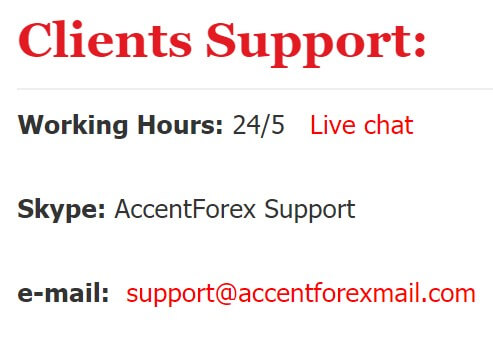 Client Support (24/5)
Email:

support@accentforexmail.com

Skype: AccentForex Support
Accounting Department (9:00 – 21:00 UTC+2)
Email:

fin@accentforexmail.com
Introducers Support (9:00 – 21:00 UTC+2)
Email:

introducers@accentforexmail.com

Skype: Partners AccentForex
Sales & Marketing (9:00 – 21:00 UTC+2)
Email:

sales@accentforexmail.com
Technical Support (24/5)
Email:

it@accentforexmail.com

 
Operational BackOffice (9:00 – 21:00 UTC+2)
Email:

backoffice@accentforexmail.com

 
Perwakilan Indonesia 
Email:

ind@accentforexmail.com

 
Countries Accepted
On their FAQ page, the company explains that service is not offered to residents of the United States or the United Kingdom. The company also suggests that these may not be the only countries that are restricted from opening trading accounts. A quick check of the registration page revealed that the US and UK are in fact missing from the sign-up list, although many other countries that are commonly restricted by other brokers are available. 
Conclusion
AccentForex offers leveraged trading of up to 1:500 from 4 different account types, on the award-winning MetaTrader 4 platform. Deposit requirements start as low as $50. More than 140 instruments are available, with starting spreads ranging from 0.1 to 2 pips, depending on the chosen account type. Unfortunately, the website can be vague at times and does not provide information about commission fees. Customer support is limited to online options, with no direct phone number listed, although the instant contact option LiveChat is available. Accounts can be funded through Bank Wire, cards, Bitcoin, and electronic payment methods, although fees add up quickly on deposits and withdrawals.
As far as educational resources and trading tools go, we see limited options that are mainly targeted towards beginners. The broker does offer a choice of bonus options and has other ongoing promotions, including accrued interest on funds and occasional demo account contests. Those that have less capital can certainly benefit with this broker, due to the advantageous conditions offered for a simple $100 deposit. Sadly, clients from the US and UK will not have the option to open an account with this broker.